Believing the best can be found
Investiture ceremony and Felicitation of CBSE Xth board toppers
CELEBRATION OF INTERNATIONAL YOGA DAY – 2022
HIGHLIGHTS OF THE EVENT
120 students participated in Seminar & Exhibition on Importance of Yoga (21ST June 2022) in Assembly Hall
70 Students participated in Human Pyramids using various Yoga Postures in School Ground
88 students participated in Performing Mass near Historic Monument in Golconda Fort. Golconda Fort, is a fortified citadel built by the Qutub Shahi dynasty as the capital of the Golconda Sultanate, located in Hyderabad, Telangana, India. Golconda flourished as a trade centre of large diamonds, known as the Golconda Diamonds.
200 Students participated in making Slogans & posters on awareness on benefits of Yoga in Class room activity area.
106 students participated in Making of paper bags.
78 students participated in Yoga slogan writing.
400 students participated in Mass Yoga.
200 students participated in Organic showing videos on Yoga.
Republic Celebration 2022
Independence Day Celebration
CBSE EXPRESSION SERIES ON ART AND CULTURE -Pairing of States and Union Territories as per Ek Bharat Shreshtha Bharat (EBSB) programme
Vitrual Independence Day Celebration
Aug 15th 2020 HYDERABAD INDIA
Here at Azra Public School, terrific performance in CBSE Class 10, AISSE(2019-20) 100% since inception.
> 147 students had appeared in the examination.
> 100% percent pass result.
> 73 students secured distinction.
> Remaining students first division.
> School topper Asma Mohammed scored 488/500 with 97.6%.
> 14 students has got the percentage between 90-100%.

Terrific performance in CBSE Class 10, AISSE(2019-20)
AUG 2019-2020 HYDERABAD INDIA
Inter- School Seerath Quiz Competition  conducted by Children's Islamic Circle(CIC),Women's Wing JIH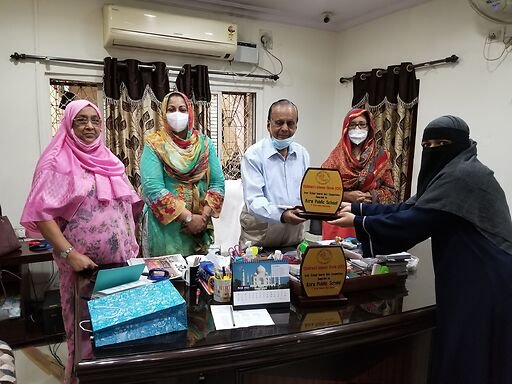 Want your child to be a part of an amazing schooling experience?