Believing the best can be found
OMC cares Summer Camp Valedictory Ceremony
At OSMANIA MEDICAL COLLEGE
Ramadan Programme
At School
Martial Arts Inter school Competition Winners
At School
Farewell to Class X students by the Management
At School
Parent -Teacher meeting with the Management
At School
Career Counselling
At School
74th Republic Day
Celebration at School
Qaanit Shayan Abdul Samad S/o Mohammed Abdul Samad of IX standard had played Official HCA (Hyderabad Cricket Association) One day league matches.
Excellence in Providing Affordable & Quality Education
Awareness programme by Hyderabad City Police on Safety of Women & the procedure of approaching SHE teams in emergency situation to high school girls.
Visited aerodynamics at Hyderabad on 15th December 2022
Literary Week Celebrations
A school health awareness program on WORLD AIDS DAY -2022
Heartiest Congratulations!
Mohammed Murtuza
Class X (2019 - 2020) Batch who secured,
ALL INDIA OPEN CATEGORY- 72 RANK in JEE MAIN-2022 RESULTS
Inter School Competition conducted by SS MPE Sports Pvt Ltd
at Gymkhana ground ,Secunderabad.
2nd INTERNATIONAL MARTIAL ARTS CHAMPIONSHIP -2022
Mohammed Mohiuddin
S/o Mohammed Akheel uddin of IV standard
secured 1st place and got Gold Medal
National Unity Day is celebrated on 31 October
Rashtriya Ekta Divas
It was introduced by the Government of India in 2014. The day is celebrated to mark the birth anniversary of Sardar Vallabhbhai Patel who had a major role in the political integration of India.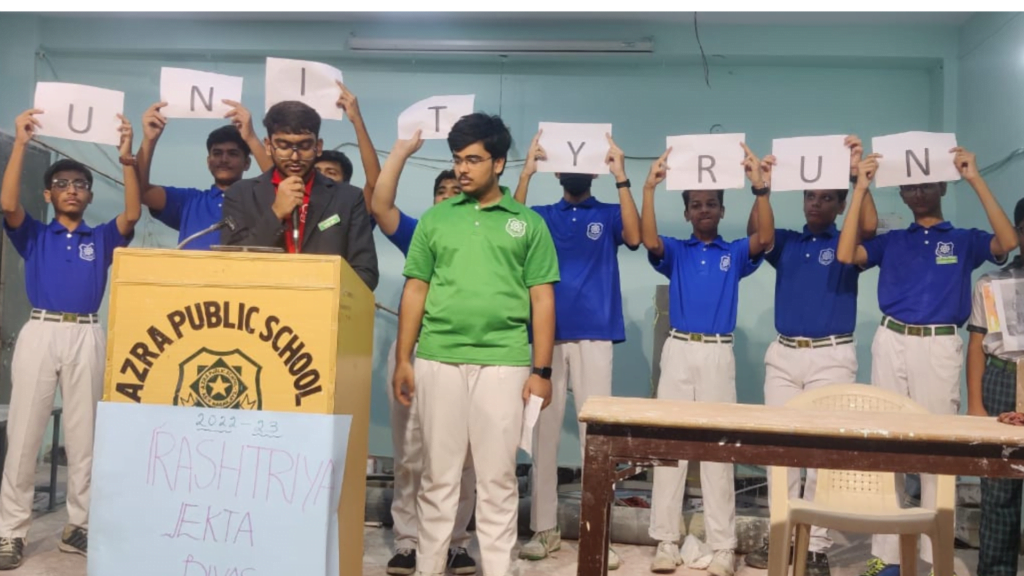 Skill-Based Interactive Activities
*A wide range of skill-based games, strategies and interactive activities that support students' educational development.
*The goal of all activities is to enhance students' understanding, skill or effectiveness in a specific area by engaging multiple styles of learning.
*During arts and crafts children regularly use the various muscles in their fingers, wrists and hands.
* Regular use of these muscles improves their strength and finesse, which then makes other tasks, such as writing, far easier!
Fruit Day Celebration
With an objective to create awareness among children about the importance of consumption of fruits in regular diet.

Pre -Primary students celebrated Fruit Day. Children, representing the fruits of their choice through dress/chart, sang the fruit rhymes with great zest, enthusiasm and vigour, enjoying the moments of joy and happiness.
Investiture ceremony and Felicitation of CBSE Xth board toppers
CELEBRATION OF INTERNATIONAL YOGA DAY – 2022
HIGHLIGHTS OF THE EVENT
120 students participated in Seminar & Exhibition on Importance of Yoga (21ST June 2022) in Assembly Hall
70 Students participated in Human Pyramids using various Yoga Postures in School Ground
88 students participated in Performing Mass near Historic Monument in Golconda Fort. Golconda Fort, is a fortified citadel built by the Qutub Shahi dynasty as the capital of the Golconda Sultanate, located in Hyderabad, Telangana, India. Golconda flourished as a trade centre of large diamonds, known as the Golconda Diamonds.
200 Students participated in making Slogans & posters on awareness on benefits of Yoga in Class room activity area.
106 students participated in Making of paper bags.
78 students participated in Yoga slogan writing.
400 students participated in Mass Yoga.
200 students participated in Organic showing videos on Yoga.
Republic Celebration 2022
Independence Day Celebration
CBSE EXPRESSION SERIES ON ART AND CULTURE -Pairing of States and Union Territories as per Ek Bharat Shreshtha Bharat (EBSB) programme
Vitrual Independence Day Celebration
Aug 15th 2020 HYDERABAD INDIA
Here at Azra Public School, terrific performance in CBSE Class 10, AISSE(2019-20) 100% since inception.
> 147 students had appeared in the examination.
> 100% percent pass result.
> 73 students secured distinction.
> Remaining students first division.
> School topper Asma Mohammed scored 488/500 with 97.6%.
> 14 students has got the percentage between 90-100%.

Terrific performance in CBSE Class 10, AISSE(2019-20)
AUG 2019-2020 HYDERABAD INDIA
Inter- School Seerath Quiz Competition  conducted by Children's Islamic Circle(CIC),Women's Wing JIH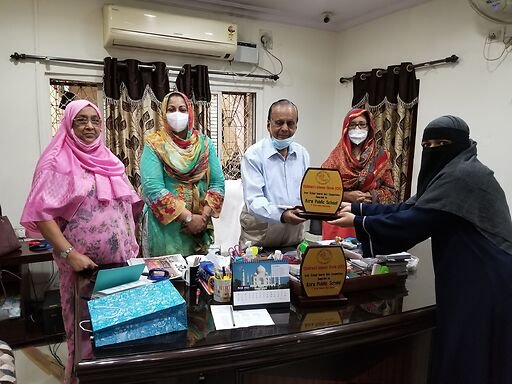 Want your child to be a part of an amazing schooling experience?